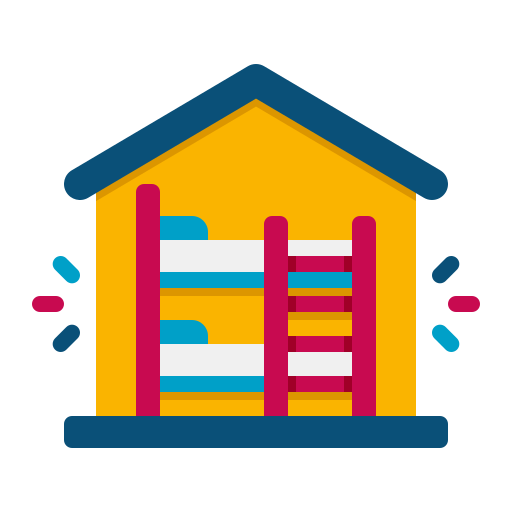 Student Dormitory & Housing
Dormitory
On-campus dormitory ("International Village") of double-occupancy rooms (single-occupancy is not available due to limited space);
Each room is equipped with Internet access, air-conditioning, wooden-framed bed, desk and chair, bookshelf, and closet; (Basic Bedding, pillow, and daily necessities are not included.)
Each public area (shared by 4 ~ 5 rooms) is equipped with bathrooms and shower facilities, kitchenette (with microwave, no stove), drinking water dispenser, refrigerator, television (cable-access) and lounge area with sofa;
The convenience store and student restaurant are in the dormitory area. Cooking is not allowed in the dormitory.
Housing around campus
Reasonably priced housing is available in the neighborhood of NSYSU.
Most apartments for rent come with 3 bedrooms but usually unfurnished. The average rent for an apartment near the campus is about NT$20,000 per month. Individual rooms are around NT$5,000 to NT$8,000 per month.
A security deposit of one to two months rent is usually required. A lease contract is usually required and the duration is one year.
Housing around campus ► 西灣租屋資訊網
More housing in Kaohsiung ► 雲端租屋生活網
Shared Apartment ► Kaohsiung Flatmates
Categories
Expense Fee/ Duration
Notes
Dormitory
NT$6,400 per person / 3 months (4-person room)

On-Campus accommodation is available to full-time students.
No additional utility bill for Electricity or Water using, all fees are included in above pice.

NT$12,300 per person/ 3 months (2-person room)
Off-Campus Housing
NT$20,000 / 1 month (Apartment/Flat)

A one-year lease is usually required.
A security deposit of one to two months rent is usually required and may be refunded under certain circumstances.

NT$5,000~8,000 / 1 month (Individual Suite/Bedsit)
Learning Materials
NT$1,000~2,000 / 3 months