★ CLC does not collect extra registration fee or handling charges those are not listed in Fees & Charges on our website.
Fees & Charges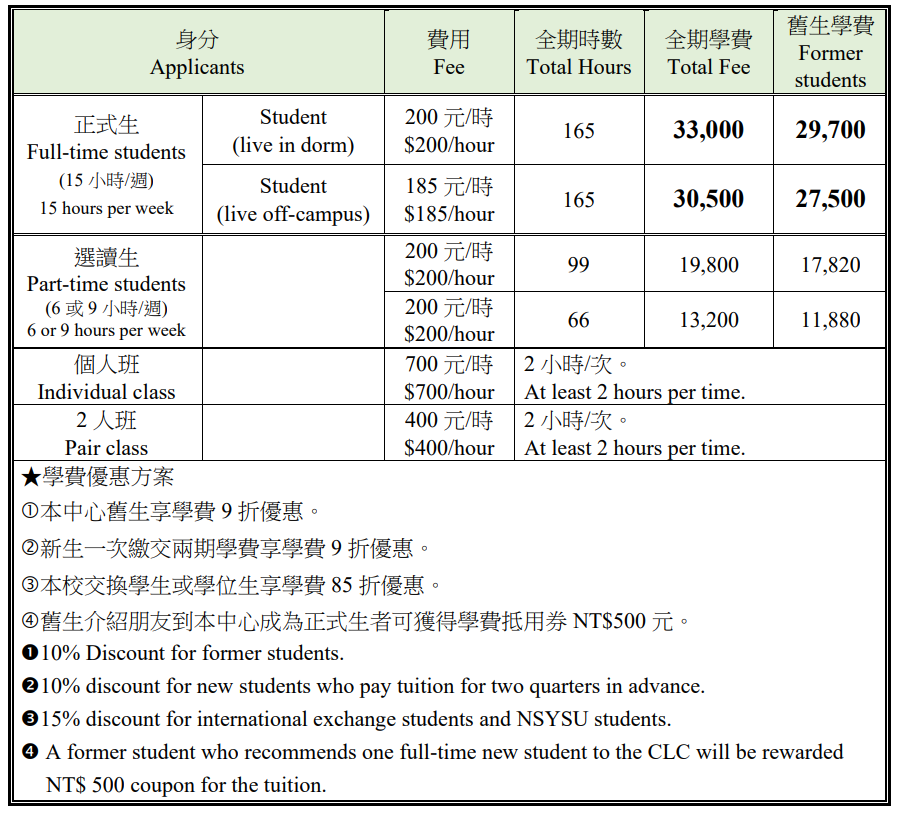 ★ Attention! Students who live in the dorm pay the different price of tuition from those who live outside of the campus.
Refunds
Should classes be cancelled due to lack of applicants, tuition fees shall be refunded.
If applicants are unable to obtain a visa, the class tuition shall be refunded.
Tuition fees are non-transferable and non-refundable.
Tuition is deferrable to the following semester - providing it is deferred before the start of the current semester.
Insurance(optional)
In accordance with Taiwanese law, all foreign students are required to purchases medical or accident insurance. The Chinese Language Centre can assist in the purchase of such insurance during registration. The cost of the insurance is approximately NT$2580 for 1 year.
Students already possessing insurance from their own countries are required to bring the appropriate documents with them to Taiwan.
Foreigners residing in Taiwan and holding an Alien Resident Certificate (ARC) for longer than six months are required to join the "National Health" Program, the cost of which is NT$826 per month.
| Insurance types | duration | notes |
| --- | --- | --- |
| Group Accident Insurance | NT$1,880/1 Year($470/3 months) | Apply during class registration |
| National Health Insurance | NT$826/1 Month | After holding an ARC for longer than 6 months |
Other Information
Expense Fee/ Duration
Notes
Dormitory
NT$6,400 per person / 3 months (4-person room)

On-Campus accommodation is available to full-time students.
Electricity is metered and charged on a per-room basis

NT$12,300 per person/ 3 months (2-person room)
Off-Campus Housing
NT$20,000 / 1 month (Apartment/Flat)
A one-year lease is usually required
A security deposit of one to two months' rent is usually required and may be refunded under certain circumstances
NT$5,000~8,000 / 1 month (Individual Suite/Bedsit)
Learning Materials
NT$1,000~2,000/3 months