Register Now
Application Information Chinese language classes at the CLC are open to persons who possess at least high school diploma or its equivalent. Applicants are encouraged to have a good academic record and exhibit sincere interest in learning Chinese.
Owing to the large number of applications each quarter and in order to allow enough time for newly admitted students to receive a visa, prospective students are encouraged to submit their application materials as early as possible. All application materials must be received before the application deadline and will not be returned once submitted.
The CLC operates on a quarter basis, with new classes at all levels of instruction offered at the beginning of each period of study. A six-week Summer Session is also offered.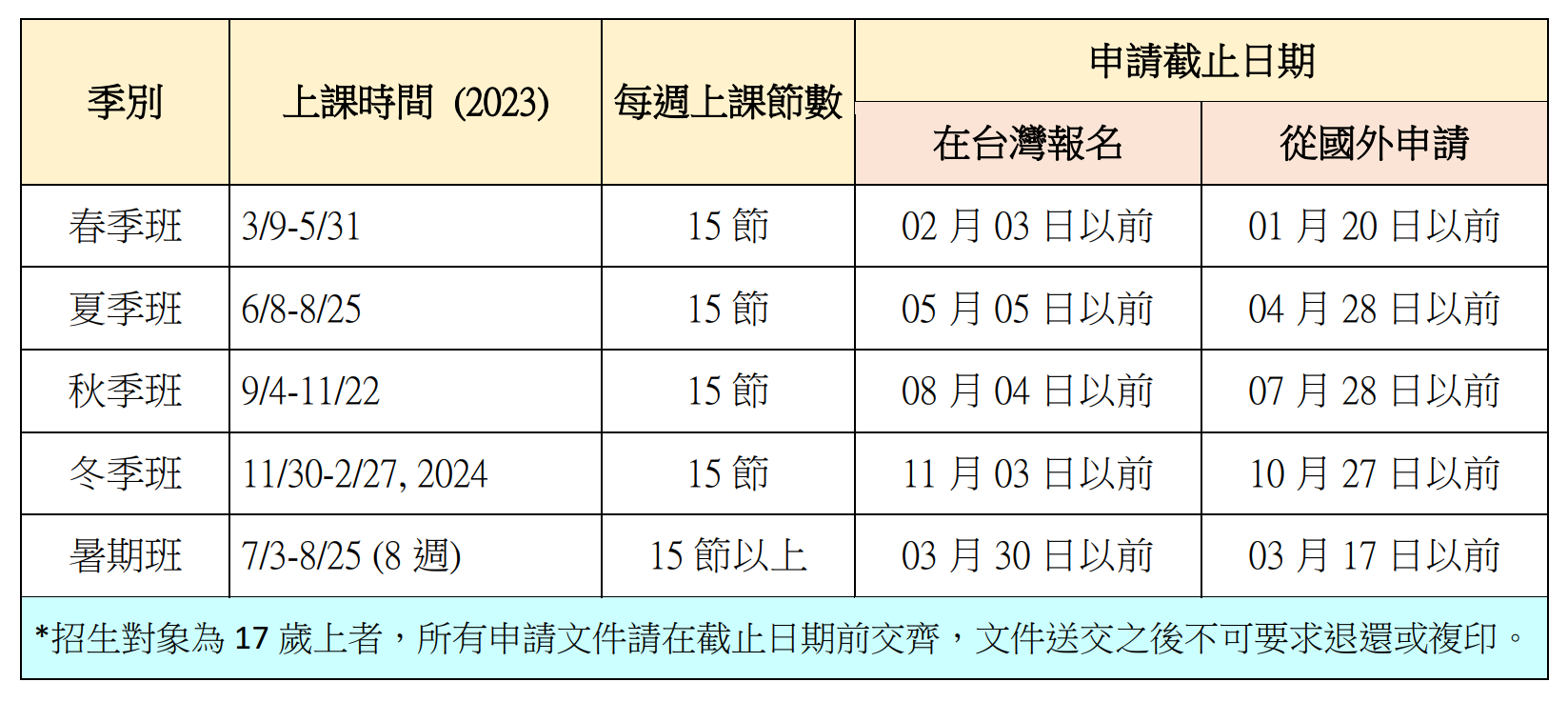 Registration
Registration for new students takes place during the last one week before the beginning of each quarter.All registration arrangements must be completed in person. It is not possible to register or pay school fees by post. Students are therefore urged to arrive at least one week before the beginning of the quarter. At present, the CLC is unable to accept bank transfers, and payment must be made in cash.
Registration and enrolment consist of the following steps:

※ Note: Students who plan to continue the program after studying two years should submit the study plan.

Late Registration

The CLC encourages students to arrive in time for the regular registration, but students may register late if they notify the CLC in advance by fax (+886-7-5253039) or e-mail (alfc@mail.nsysu.edu.tw).
Late registrants should note that there may be only limited number of openings in classes.
Orientation
An orientation session will be held for all new students. Orientation is designed to help students make the most of their stay in Taiwan and to familiarize them with procedures and requirements for renewing and changing their visa. Class schedules and Students' handbook will be distributed after the orientation.
Certification
The CLC is a non-credit-granting institution. All courses at the CLC are offered on a non-credit basis. Students finishing the courses can apply an enrollment statement or a transcript.